📝Overview
Dear Homestyler, to make the design community more interesting and diverse, Homestyler has launched a brand new design challenge page as well as an upgraded challenge scheme.
You can click here to visit the page, view the ongoing and past challenges, and browse entry designs for each challenge!
We will hold constant interesting design challenges in categories of style, color, season, city, or holiday. And we will provide free memberships, rendering quotas, winner badges, etc. as prizes to give back to everyone's efforts and look forward to your participation! Just have fun, participate in the contests, practice your creativity, and enjoy the design challenges~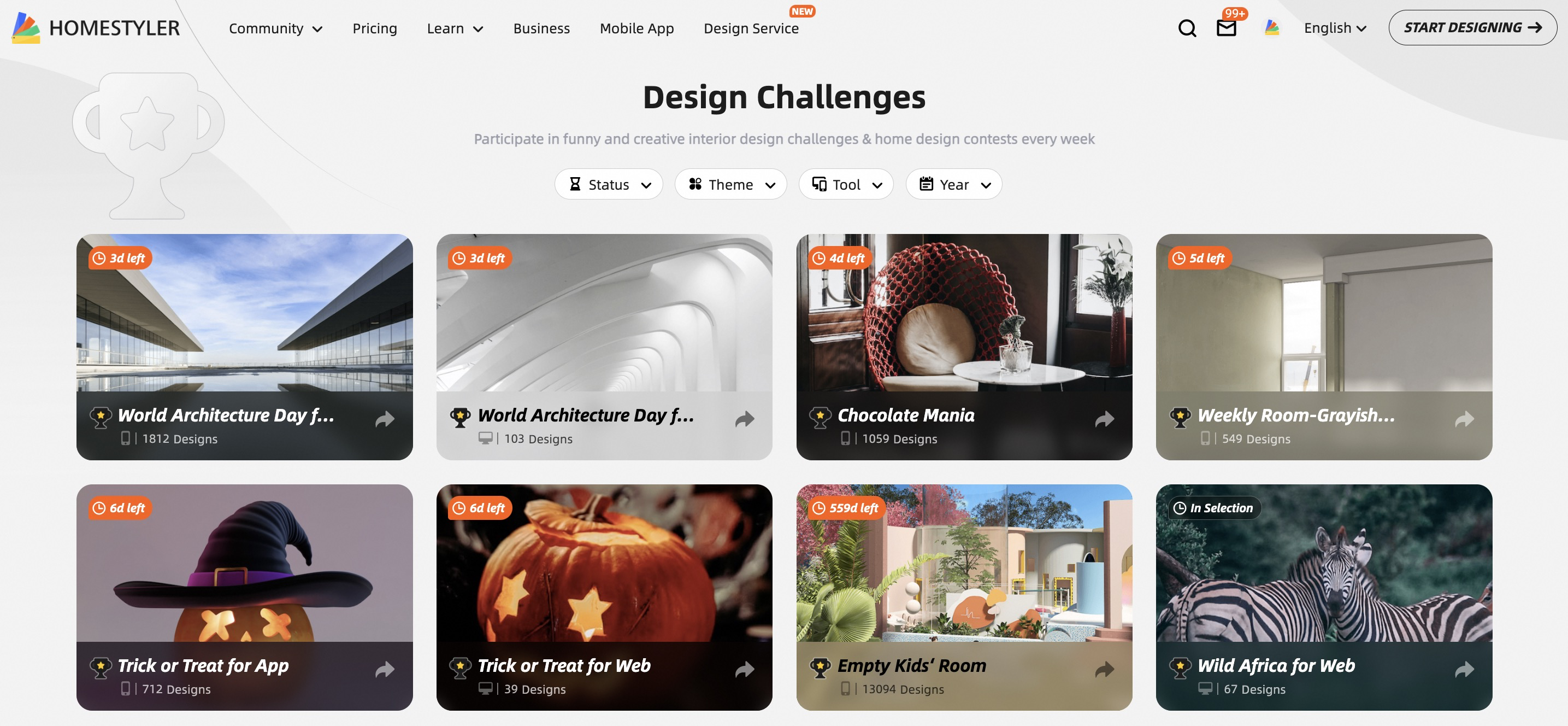 🕑Challenge Types and Frequency

Homestyler has two main interior design products:
📱——the Homestyler mobile app for both iOS and Android, that you could decorate rooms with 3D furniture at your fingertips
💻——the browser-based web 3D design tool, an all-in-one 3D interior design tool from floor planning, 3D decoration, 3D modeling, to image or video rendering.
On our Challenge page, you could use the "Tool" filter to view challenges for the web or app.

A monthly contest is held at the beginning of each month, and the winners will win great prizes. At the same time, we will also have bi-weekly competitions with different interesting themes and leave enough time for everyone to create. At the end of each year we will also hold an annual competition, so stay tuned!
📱For the mobile app community
Since it is more convenient to create 3D designs with mobile apps, the app community will have more challenges. There are 2-4 challenges going on at the same time every week. If you want to participate in these interesting challenges, please download our app to create~
iOS APP Store: https://apps.apple.com/us/app/homestyler-interior-design/id601137449
Google Play: https://play.google.com/store/apps/details?id=com.autodesk.homestyler
🧐How to submit a design to the challenge?
Step 1:
Go to the Challenge page and find one that interests you:
https://www.homestyler.com/challenge
You could use the filters (status, theme, tool, or year) above to choose a proper challenge theme.
Step 2:
On the challenge page, read the submission requirements, as well as the timeline and reward information from the top information column. After you have finished your entry design and edited the project with ideas behind and descriptions, go back to the page and click the "Submit Now" button from the upper right corner of the page.
Step 3:
Choose an eligible entry design, and click "Submit" (Make sure you edit the project first before submitting).
*Please be aware that all the challenges have a requirement for the tool used. In this specific challenge, both web designs and app designs are eligible! You could switch the "Web Design" and "App Design" tab to select the design made with different tools.
Step 4:
View your submission on the Challenge page under the "New" Tab~ Share your design on social media and get more likes and views, which will increase the chance to be selected!
🏆Award Type and Selection Criteria
Best Room Award(Top1-6):
25% Number of likes + 25% Innovation + 25% Aesthetics + 25% Color Matching
Best Popularity Award:
To 3 projects with the highest points = (70% x Number of likes) + (30% x Number of views)
Most Innovative Award:
Innovation will be the first criterion - whether you make the most innovative purpose of the rooms, or the most creative redecoration of the space. Remember to include your ideas in the project description!
⚠️Notifications
Number of entries: the number of projects submitted is not limited, but each person shall only be awarded one prize.
The submitted works must be original works. Any kind of plagiarism or infringement of the property rights of others is prohibited. Entries that are not original will be disqualified whenever once sufficient evidence is found.
The submitted design project must be set to "public" status, so that our selection team and other visitors could open and view your design details.
Award time: The challenges for web will be awarded within 2 working days after the end, while the challenges for app will be awarded within 1 working day after the end.
During your participation, feel free to contact us (homestyeler.contest@service.alibaba.com) if you have any questions.